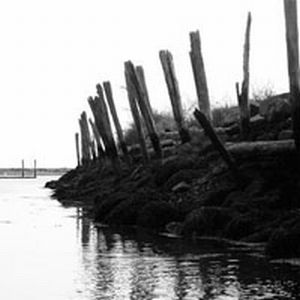 Ehnahre are... some kind of something featuring former members of Kayo Dot and Biolich. So the credentials are there. The question simply is this: do you have the mental where-with-all to make it through this... whatever the fuck it is? Of all the clusterfuck noise abortions I have dedicated my life to spending time on the Internet about, Ehnahre's
The Man Closing Up
is the first to make me questions my choice in music.
Sitting there on my first spin of
The Man Closing Up
, with it's waves crushing Death/Doom mixed with grinding instrumental Noise and some other stuff that is vaguely musical in composition, I started thinking to myself "What the fuck am I listening to? Is this really the type of... stuff kind of like music you pictured yourself listening to when you were a kid and shit like Korn was still awesome? Maybe I should just quit while I am ahead. Maybe I should just start listening to LMAFO and Lady Gaga. I would probably have a girlfriend if I did. I could start going to dance clubs and only get headaches after the Cocaine starts wearing off."
Later, I just turned the volume up and brooded in the dark for a few hours.
Last.Fm(The Man Closing Up Is Free For Download on the bands Last.Fm Page)